Though I'm not yet ready to unveil my Top 10 Films of 2007 -- I'm seeing
There Will Be Blood
tonight and hopefully watching
The Host
on DVD soon -- the
Village Voice/LA Weekly Film Poll
has no such reservations.
Here's what's on my list thus far, in no particular order:
No Country for Old Men
The Diving Bell and the Butterfly
Ratatouille
Away From Her
Zodiac
The King of Kong
Into the Wild
Lake of Fire
Margot at the Wedding
This is one of the first years in a while that I haven't known what my #1 movie was by year's end. Perhaps not coincidentally, this was one of my least active movie-going years in some time. SIFF was practically a nonevent for me, mostly because every year I stress out about how much ground I'm going to be able to cover, and it's never enough. So this year I threw in the towel before the whole thing even started and saw only a few films.
In other movie/nonevent news, looks like the
Globes
will be pretty much
starless this year
. I must say, much as I admire her convictions, the sight of Tina Fey picketing entirely seriously is kind of jarring: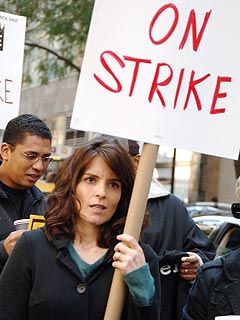 I've never seen her do
anything
entirely seriously.
Yet more movie news: SIFF Cinema's upcoming schedule is fabulous enough to make me scold myself for not getting there more often in the past. I especially want to catch
Billy the Kid
and
Imaginary Witness
, and if anyone wants to join me, drop me a line. I always welcome company.
One more thing:
Yikes
.