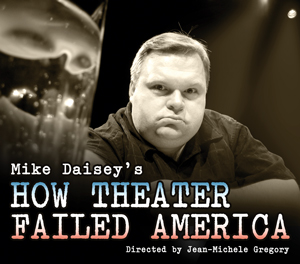 Had a wonderful birthday weekend, from Friday night's dinner at
La Fontana
in Belltown to today's brunch at
El Greco
, with an afternoon of
caucusing
and Mike Daisey's monologue/one-man show
How Theater Failed America
in the middle. The show wasn't nearly as polished as Daisey's
Monopoly!
, which I saw a couple weeks back with my friend Elana, but it was still plenty entertaining and thought-provoking, and Daisey's energy as a performer continues to astound me. (Why wasn't it as polished as
Monopoly!
, you ask? Perhaps because it was only the third performance of the show. By the time it comes back to Seattle, it'll likely be another masterpiece.)
Caucusing was a real education. We went to Mt. Zion Baptist Church at 1 p.m. on my birthday, and Emily and I both registered to vote. Then we went to the church's sanctuary, which is where our precinct was meeting. The Obama and Hillary supporters were tallied, and the delegate count stood at 7-2 in favor of Obama. Then a number of people, including Emily, gave one-minute speeches in support of their candidate of choice. I was impressed with how knowledgeable, impassioned, and articulate they were. Finally, the undecided people got a chance to choose a candidate, and anybody else got an opportunity to switch candidates. A few undecided people joined the Obama camp, but the delegate count didn't change. Then it was time to elect delegates, though that process really just involved volunteering -- there was no need to actually elect anybody. I'm a delegate, which means I'll be going to an April 5 district caucus; Emily's an alternate, which means she'll go if I can't for some reason. By going to Saturday's caucus, I became more involved in a presidential election than I've been since 1992, when I worked on the Clinton campaign with my high school friends. Hopefully I'll use this positive experience as a springboard to become more involved in the Obama campaign; in any case, I'm grateful to actually care this much about presidential politics, and I'm hoping to be able to get more active during the next few months.
My guitar stand arrived in the mail, so I'd better go set it up and either practice or watch
Red Road
, which is still begging to be seen (and sent back to Netflix HQ). Finally finished watching
Lucas
this weekend -- I watched the first 30 minutes or so about a year and a half ago -- and I can wholeheartedly recommend it. It's much better than a Corey Haim movie has any right to be, and Winona Ryder, who was all of 15 at the time, is also very good in it. (And so, by God, is Charlie Sheen.) What makes it much, much better than the dumb-looking, deceptively football-themed
DVD cover
would suggest is the screenplay, which is smart, funny, and very honest about adolescence and high school and love, particularly the unrequited kind. It's really a lovely film, the kind there should be more of.